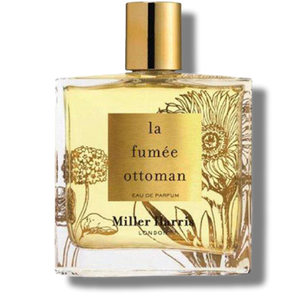 Miller Harris | LA FUMEE OTTOMAN
La Fumée Ottoman tells the tale of the incense road of antiquity, ending at the crossroads of East and West in Constantinople. Spices and precious resins were transported along the ancient trade route to be traded with Mediterranean ports. A Turkish rose accented with the luminosity of cardamom, mixed with dry cedar and the balsamic sweetness of myrrh. Smoke hangs in the air, alongside the voluptuous intensity of amber.
All Miller Harris products are vegan, free from phthalates, artificial colorants, parabens and formaldehydes. We use high levels of natural raw materials.
Head Notes: Bergamot, Cardamom Guatemala, Rose Turkey, Cumin Egypt
Heart Notes: Incense Yemen, Cedar Morocco, Patchouli, Sweet Date
Lasting Impressions: Rose Morocco, Amber, Sandalwood, Vanilla, Tonka
3.4oz / 100ml