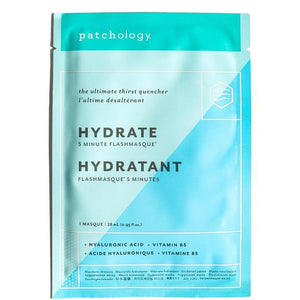 Patchology | FLASHPATCH® HYDRATE 5 MINUTE SHEET MASK
The Ultimate Thirst Quencher
Feeling parched? Whether it's the dead of winter or height of summer, the elements don't always play well with our skin. It only takes 5 minutes to treat your skin to a much-needed surge of maximum moisture. FlashMasque Hydrate 5 Minute Sheet Masks combat dehydration and ease your facial fatigue. You'll look youthful and dewy every day. 
Traditional sheet masks take up to 20 minutes to work. But our advanced masque material accelerates delivery of essential ingredients Hyaluronic Acid and Vitamin B5 to improve elasticity and smooth your skin. Try one anytime you're feeling parched.
Ideal for: Dry skin types or any time skin is fatigued and dehydrated.
End Your Dry Spell
FlashMasque® Hydrate 5 Minute Sheet Masks should be used once a week or as often as needed. Put them on before makeup or at night. 
Step 1: Unfold the masque and apply to clean, dry skin.
Step 2: Place over your entire face, pressing the material snugly into facial contours.
Step 3: Leave on for 5 minutes (or longer if desired).
Step 4: Remove the masque. No need to rinse. The serum with fully absorb into skin. Follow with your normal skin care routine.
They Drink It In
In a single 5 minute use study with 100 participants:
100%

 

said their skin felt instantly hydrated

98%

 

said their skin's moisture felt restored

98%

 

said it smoothed and softened their skin