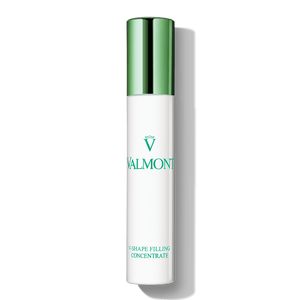 Valmont | V-SHAPE FILLING CONCENTRATE
Ultra-volume firming serum
The visibly densifying serum firms, tightens, and smoothes the skin. Plumping to the power 5!
This superpower concentrate fights sagging skin on and around the contours of the face and neck.

1 formula with 5 different youth actions:
. protects from free radicals that age skin;
. tightens tissue for a rested appearance;
. plumps skin for a younger look;
. regenerates tissue to improve firmness;
. reduces wrinkles on a long-term basis.

It is reinforced by super moisturizing DNA, and a collagen and elastin booster from a milk protein. Its silky texture leaves skin feeling taut.
Suitable for all skin types, especially recommended for those with sagging or loss of firmness.
AWF5 Complex powerfully firms and fights wrinkles for 5 key youth factors:
. The antioxidant Vitamin C protects skin and stimulates collagen-producing fibroblasts;
. The fibro-boost stimulates collagen and elastin;
. The GAG-boost promotes glycosaminoglycans production;
. Densi-Derm tightens fibers;
. The Peptides Cocktail repairs wrinkles.